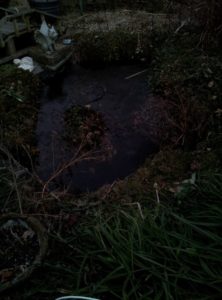 Wool gathering in the dark days of winter, not the actual act, but the old phrase meaning to daydream. The winter solstice is my favorite day of the year. It is my favorite day for introspection, self-work, and conjuring hopes, and dreams for the new year. Many find the long darkness somewhat cold, and depressing, I used to, but not anymore. Over the years I have come to look forward to it as a very tangible reminder that Spring is coming just around the bend. For without the darkness there can be no light. The day after the solstice the light will shine just a wee bit longer in the sky, as it will each day forward until we reach the summer solstice.
I wasn't really conscious of my internal celebration of the solstice until just a few years ago. I used to invite friends over for a small celebratory gathering on the solstice, mainly because most people were free that day unlike the rest of December days where everyone is wrapped up in holiday plans, Christmas, Yule, Hanukkah, etc. As the years passed I found myself increasingly annoyed at the commercialization of any/ all holidays, with a longing to return to the roots of the season.
My ancestors would have been tucked in for the winter. Hopefully with rafters and cellars full of the autumn harvests, and hunts. Root vegetables would be simmering in the pot and families would be spending time together telling stories, and conjuring their hopes, and dreams for the new year. Many people would not see another soul until the winter thaw making it the perfect time for mending of all things.
Soon  I will be putting on a pot of root soup which will simmer all day and tease us with it's wonderful rich smell. That along with some crusty herb bread, and a Cherry herbal cordial made in the autumn will round off my darkest day dinner, very similar to my ancestors. So, cheers to you, and may you fully embrace the darkness, and relish the return of the light!
Green blessings,
Ali Wolf