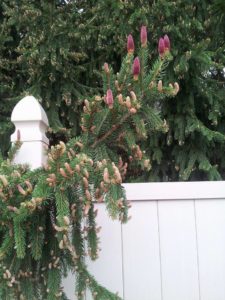 This tasty treat is the perfect winter holiday bite, with its flavors of Pine, orange, cinnamon, and clove. But you can enjoy them all year round.
2c Flour
1c Butter (softened)
½ c Sugar
3Tbsp Pine needle powder
½ tsp Vanilla
¼ tsp Salt
2 Tbsp. Orange juice
1 Tbsp. Orange zest
1 tsp Cinnamon
½ tsp Cloves
Mix together softened butter and sugar. Mix in remaining ingredients. Divide dough in half, form each into a 12-inch log. Wrap in saran wrap and put in the freezer for 30 minutes.
Pre-heat oven to 350 degrees.
Remove dough from freezer and cut into ¼ inch slices. Bake on an ungreased cookie sheet for 25-30 minutes.